No one can return from the African bush unchanged.
This was my first ever sighting of wild dogs and the start of an ever growing love, respect and fascination for these animals who I had known nothing about. 
It was my first day of monitoring this pack of nine. There was a sense of urgency due to one of the well-loved males having been caught in a wire-snare 2 weeks prior and monitoring his recovery was the top priority. Checking daily that his wound was bright red (healthy) and not going black or green.  
It was my first sighting as well as the first shocking evidence of the impact of snaring and the first moment of seeing with my own eyes why the African Painted wild dog is endangered and why it is so important for conservation groups (such as Wildlife ACT) to put their resources into tracking and monitoring them.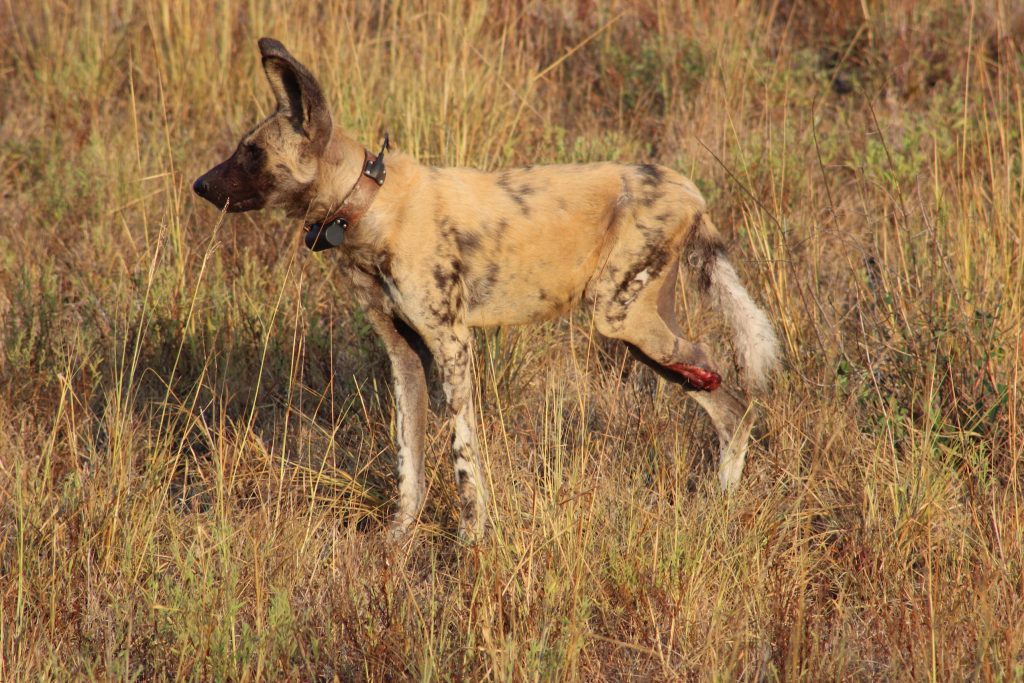 At uMkhuze Game Reserve, as in many game reserves around South Africa, snaring is a huge problem. The community that surrounds the parks set these illegal traps in order to catch antelope such as impala and nyala for food. Sadly, all kinds of other animals get trapped too. And because of the large distance a pack of dogs can cover in just 24 hours, the chances of them stepping in one are very high.
At first these dogs were all gorgeous, of course. But apart from the obviously limping three-and-a-half-legged Foxtrot – they all looked the same to me. I had no idea how the game rangers mentioned each by name. However, over 12 days of seeing these guys (and girls) every day, (sometimes twice a day) it is absolutely amazing how different each individual is. The personalities become apparent, the dynamics and behaviour and how unique each dog's colouring and markings are. 
I learnt so much by observing this pack. Wild dogs are not only united as a pack but unlike many other animals they take care of the weak and vulnerable. Due to Foxtrot's injury, they couldn't move as fast or cover as much ground yet they'd never leave him behind. They moved as one, with such compassion.
We'd count them when we got a visual (1,2,3,4,5, 6, 7……….. 8, 9) Foxtrot was number 8. Never the last. When he stopped and lay down for a break, the rest of the pack played around him or lay near by, some of the other adults would clearly be on the lookout for a potential meal, but he was never alone.
When he got up, the pack looked around, took account of each other and moved off together. Always with the 9th dog, like a his body guard, bringing up the rear.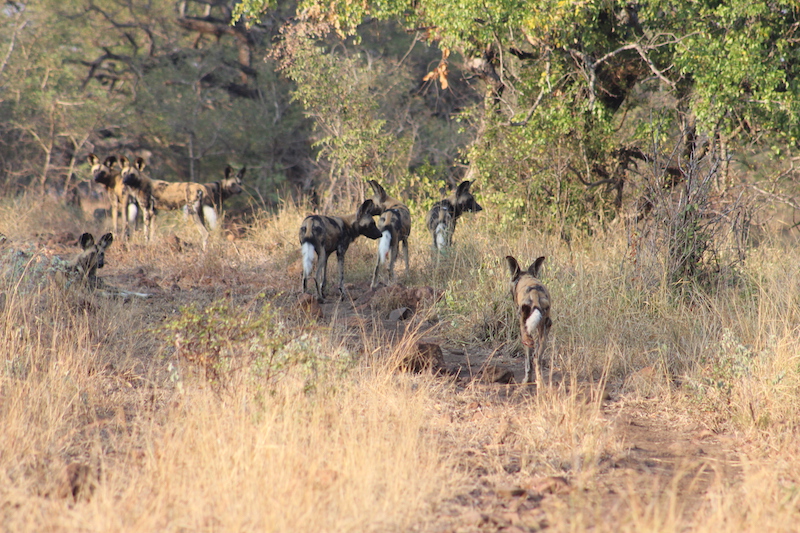 The first time I saw him,as is evident in the photo, he was quite skinny. One of the things to be monitored was his weight and he got stronger and healthier every day due to the fact that he was cared for by his pack. He ate first with the younger dogs, changing my knowledge of each to their own and survival of the fittest. Elephants nurturing and supportive herds are one of the main reasons I have such a deep love for them and witnessing this in the dogs is what gave them a secure grip on my heart.
People tease me for my love of wild dogs. What they don't understand is how bonded and connected you grow to a pack when you see them day after day, even as a volunteer. Especially, as me.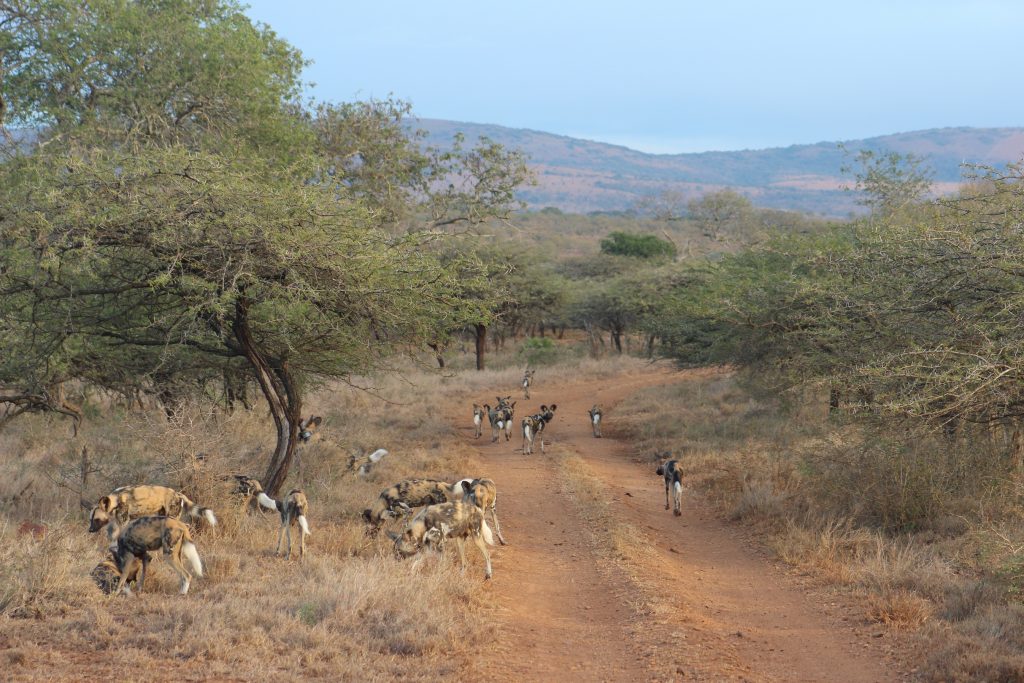 During the last morning with them, as they ran off into the bush, I knew it was the last time I'd see them… as I watched Foxtrot hop off and pause, look back and move out of sight, tears streamed down my cheeks. Wishing him strength in his recovery  and long life.
Feeling a sudden jolt on my heartstrings – I'm going to miss you all so very much – and then a reassuring sense of peace knowing what great support he has – not only in his pack, but in his extended human pack. The conservation team whose devotion I could now so deeply understand.  
No one can return from the African bush unchanged.
A part of me shifts every time.