Nelson Mandela – affectionately known to his South African Rainbow Nation as Madiba – was an anti-apartheid revolutionary, political leader and philanthropist who served as President of South Africa from 1994 to 1999. 🌈He was the country's first black head of state and the first elected in a fully representative democratic election.
Mandela Day is celebrated on 18 July, his birthday, every year.
The Mandela Day campaign is a celebration of our collective power to create a global movement for good and make a positive impact on the world.
We celebrate this day – which I consider the most beautiful day of the year – by spending 67 minutes giving back, taking positive action, taking part in an act of kindness.
The reason: one minute is counted for every year Mandela served the country.
He spent 67 years making the world a better place, and one minute for each year needs to be spent doing something good.
I believe strongly in this day. I don't believe it is one day to do something nice and then forget about it for another 364 days.
I believe it is a day to REMIND US how easy it is to do good. How little time it takes – To give. To spread love. To foster our generosity of spirit. Everyday.
With the most important message being:
Make everyday a Mandela day.
This day is a REBOOT – to be reminded, re-inspired to take action however you can, or to keep you motivated to continue taking action in your own special way.
I celebrate Mandela Day every year with friends, with the students I teach English to and through the community upliftment project I'm a part of.
For the last few years at Obs Pasta Kitchen (a weekly delicious pasta dinner in a safe, supportive space) – we've done blankets, as well as toiletries packs with students and volunteers feeling energised and inspired to get involved and lend a helping hand.
❤️
In 2018, my international group of students and I spent 67 minutes out of the classroom with a soup kitchen called Ladles of Love, making 670 sandwiches for those in need:
A few years back, my beginner students from Gabon, Angola, Yemen, Saudi Arabia and Brazil – who could hardly speak any English – understood the message and went around giving out roses and fruit with a smile:
The Mandela Day spirit is infectious. Over the years, my classes have put a lot of heart into their spontaneous 67 minutes to make people smile.
I'll never forget this special aha-moment, clearly expressed:
"Miss Dani I make someone happy and I feel MORE happy!"
.
.
.
So, will YOU celebrate with me this year?
Can you think of something you can do with your friends or family? your kids? on your own?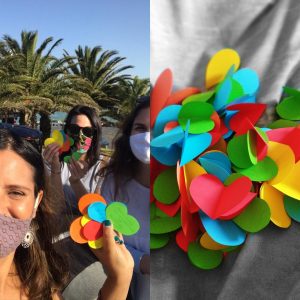 Last year, friends & I wrote 67 special messages on hearts and handed them out with a smile to 67 people along the beachfront. The surprised smiles and reactions were priceless. 67 hearts unexpectedly warmed!✔️✔️✔️✔️✔️✔️✔️✔️✔️
This year Mandela Day couldn't have arrived at a more appropriate time!
🇿🇦 Let's live the legacy of the late and great Madiba 💛
We all need to be reminded that we have the power in each of us. Especially at times like these.
Mandela Day magic is a real thing✨ wherever you are in the world
LET'S SPREAD IT !!!