𝗜'𝗹𝗹 𝗮𝗹𝘄𝗮𝘆𝘀 𝗿𝗲𝗺𝗲𝗺𝗯𝗲𝗿 𝘆𝗼𝘂 𝘁𝗵𝗶𝘀 𝘄𝗮𝘆
my beautiful Queen Jezzy
Fiercely proud. Resilient Fighter.
Your garden was your kingdom
I dropped whatever I was doing when you came inside to see that you were given what you wanted, quietly demanded.
You took what you needed and left
Suited yourself 100 % of the time.
Oh, Ling A friend to all who visited you in your domain. A friend to no-one who approached you in the house, except me, not always but enough of the time.
Jezza the exterminator You'd proudly drop your punctured bird, stunned mouse, baby snake off outside my door – Just alive enough to create minor havoc. I became a field mouse catch and release pro.
The welcomer of all the pets to our pack.You were so sweet to all the new additions. We could rely on you to make them feel at home – You took your Motherly role seriously, naturally Matriarch Jez.
I'll always remember you this way.
Oh, your majesty the Ling You only liked humans on your own terms. But if there was a human you had fond feelings for, I know it was me.
Lingy-lulu
You'd appear out of no where and walk around the corner behind the invisible vail. I still don't know where you would go.
Jezzabelina,
Watching you catching your morning rays and ocean view from the neighbours roof, was such a comfort. Just knowing you were there. Doing your patrol. Surveying your land.
𝗜'𝗹𝗹 𝗮𝗹𝘄𝗮𝘆𝘀 𝗿𝗲𝗺𝗲𝗺𝗯𝗲𝗿 𝘆𝗼𝘂 𝘁𝗵𝗶𝘀 𝘄𝗮𝘆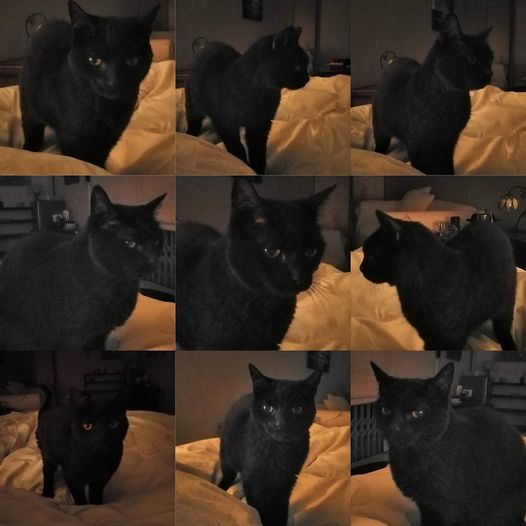 Phantom.
Stealth Ninja.
Warrior queen .
At your service, your highness.
You commanded respect. We fell about around you. I wouldn't have had it any other way.
Your presence was reassuring. As you came and went. Lightly quietly feeling you jump onto the edge of my bed. I told you I loved you 1000 times over the last few months and 10 00000 times in your life.
Lingalot,
I did everything to keep you around just another day. On your last night I stayed awake watching you for hours and hours. I wouldn't have had it any other way.
Precious girl,
you knew what you wanted,
so single minded.
You lived the life you loved.
Independence was your middle name.
For over 17 years I belonged to you.
𝗜'𝗹𝗹 𝗮𝗹𝘄𝗮𝘆𝘀 𝗿𝗲𝗺𝗲𝗺𝗯𝗲𝗿 𝘆𝗼𝘂 𝘁𝗵𝗶𝘀 𝘄𝗮𝘆.